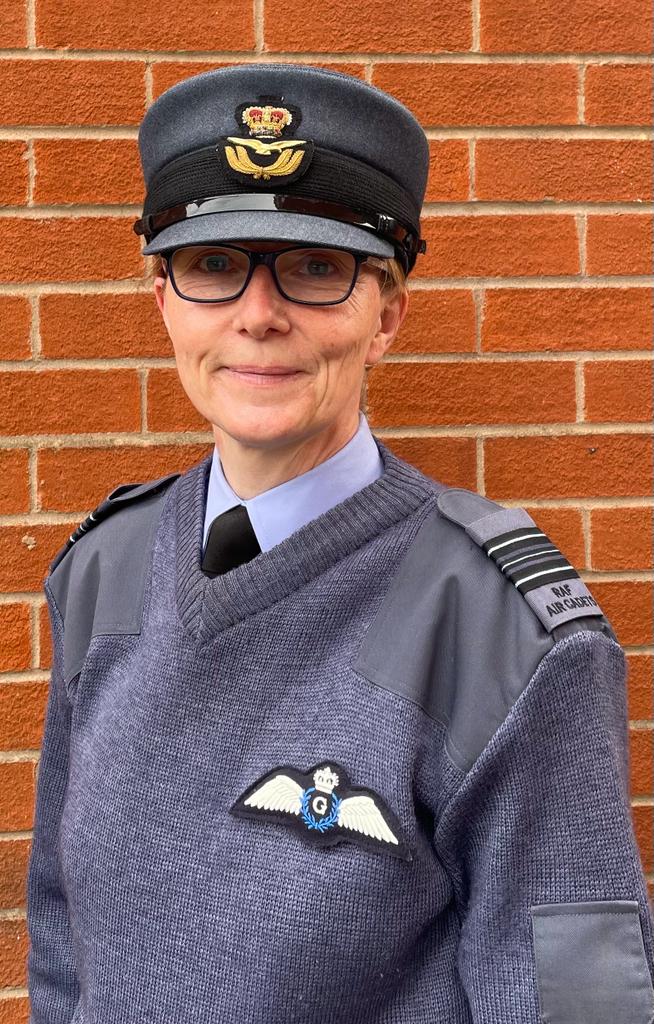 Central & East Region are delighted to announce the appointment of Squadron Leader Sheila Wilson as Region Road Marching Officer. Squadron Leader Wilson joins the Region from Warwickshire & Birmingham Wing, where she was Officer Commanding 495 (Sutton Coldfield) Squadron, Wing Road Marching Officer & Wing Aviation Officer.
Squadron Leader Sheila Wilson joined the Royal Air Force Air Cadets (RAFAC) as a cadet in May 1989 with 2275 (Walton) Squadron, rising to the rank of Sergeant. Some of her favourite cadet memories are being the first female cadet in Merseyside Wing to be awarded an Air Cadet Pilot Scholarship and having the opportunity to complete her Advanced Gliding Scholarship at Portmoak in Scotland. Following this she joined 631 VGS based at RAF Sealand as a Flight Staff Cadet.
In June 1993, Sqn Ldr Wilson made the move to become an Adult Volunteer, initially as a Civilian Gliding Instructor at 631 VGS as a B2 Instructor. In September 1996 she moved to Birmingham to attend University and joined 495 (Sutton Coldfield) Squadron as a Supernumerary Instructor. A year later she took her commission and became the Adjutant. Following University, she remained in the Birmingham area and transferred her Supernumerary Appointment to 633 VGS at RAF Cosford. As the family grew, she transferred to 1200 (Polesworth) Squadron to be closer to home as the Adjutant. In 2006 she made the decision to concentrate on her young family and business and stepped away from the organisation.
Once her eldest son joined the Air Cadets in 2013, she was persuaded to rejoin initially as a Civilian Instructor at 1122 (Marmion) Squadron before transferring to 495 (Sutton Coldfield) Squadron as the Training Officer. She took a commission again in 2018 and moved to 121 (Nuneaton) Squadron as the Training Officer. Following the pause in Gliding she re-joined 644 VGS at RAF Syerston in 2018 as a Supernumerary Instructor.
In June 2021 she returned to 495 (Sutton Coldfield) Squadron this time as the Officer Commanding. She has over the years also taken on other additional roles within Warwickshire & Birmingham Wing. She has been the Wing Road Marching Officer since February 2020 and the Wing Aviation Officer in December 2022.
Sqn Ldr Wilson lives in Tamworth with her husband and has four children aged 23, 21,19 & 18. She has worked as an Accountant for 24 years. In her scarce time off from RAFAC activities she enjoys walking, spending time with friends and visiting the children who have left home.
"It is a great privilege to be appointed as the Regional Road Marching Officer. For almost four years, I've had the opportunity to lead and develop Road Marching in my Wing. It has grown with the support of a fantastic team to be one of the most popular activities with both staff and cadets. I now look forward to working with the Wing Road Marching Officers in the Region to share resources to develop the activity across the Region. I aspire to have Road Marching available in all Wings to ensure all cadets and staff can participate."

Squadron Leader Wilson