Regional Commandant
Group Captain Dave Boreham BSc(Hons) RAF
Gp Capt Boreham has 31 years of service in the RAF to date. His career began as Non-Commissioned Aircrew achieving 3000 flying hours on Wessex, Puma and Griffin helicopters before being commissioned in 2001. In addition to his aviation experience, he has broad operational, training and headquarters experience in numerous roles both overseas and in the UK.
Gp Capt Boreham is a former cadet with 1312 (Southend) Squadron joining the Air Training Corps in 1981 achieving the rank of Cadet Warrant Officer before joining the RAF after a short spell as a Civilian Instructor.
---
Senior Staff Officer (SSO)
Wing Commander David Miller MBE GCGI RAFAC
(He/Him)
I joined the ATC with 759 (Beccles) Squadron as a cadet in 1975 and progressed through each of the cadet ranks to eventually become a Cadet Warrant Officer. As a cadet I was a keen sportsman and marksmen representing both the Wing and Region at football and athletics. I gained a Gliding scholarship and went solo, flying the newly introduced motorised glider the Venture.
Commissioned in 1981, I served at 759 Squadron as the Adjutant with adventure training and shooting responsibilities. In 1991 I was selected and promoted to Flight Lieutenant and became the unit's Commanding Officer. In March 1993, together with the Queens Colour Squadron (and several days of sword drill!) and units from Beds and Cambs, and Norfolk and Suffolk Wings, I had the honour to command the ATC contingent at the Royal Review held at RAF Marham to commemorate the 75th Anniversary of the Royal Air Force. That was a great highlight for me. During my Command period the Squadron was chosen to represent the Wing four times in the national Lees trophy competition for the most efficient Squadron in the Corps, achieving the Regional nomination in 2000 and achieving a third place in the Corps – we were a small team and I was fortunate to have such a committed group; this was my first great team.
After a total of 25 years with Beccles Squadron and on promotion to Squadron Leader I was appointed to a Wing Staff post where I served as a Sector commander and as the Wing Training Officer overseeing the Wings DofE, BTEC, Adventure Training and shooting responsibilities. In 2007 I became Deputy OC Wing before being asked to command the Wing in July 2010. I thoroughly enjoyed this time working within what was for me a second great team and with and for people during a time of considerable change for the Corps.
Having commanded the Wing since 2010, there have been many changes and to be honest the Corps I joined is very different to the one available now. The breadth of opportunities and skills is vast and there is something for everyone. I am now in my third great team with a wonderful group of volunteers who give so much and are driven to get and deliver the most for the cadets.
I remain keen on adventure training, the Duke of Edinburgh award and shooting holding qualifications in each discipline. My other interests include, skiing, motor racing, hill walking and learning to play golf (currently badly). I am married to Sonia with grown up children; Matthew – a police officer who is also a serving RAFAC Officer and Megan who is employed by one of the cruise lines and is currently working in the Caribbean.
---
Regional Chairman
Mr David Ellis GCGI
Born in Norwich, I loved my time as an Air Cadet with 231 Sqn and joined the Royal Air Force as a Halton Apprentice in 1966. I retired in 2004 after 39 years as an aircraft engineer, serving both at home & abroad, during which time I qualified as a health & safety manager and quality auditor. In recognition of knowledge gained & the skill demonstrated throughout my career I hold a Graduateship in Leadership & Management with the City & Guilds Institute and in the 1999 Queen's Birthday Honours was awarded the Meritorious Service Medal.
I have been volunteering in Peterborough since settling in Glinton with my family in 1990 whilst serving at Royal Air Force Wittering.
Volunteering firstly, with 115 (Peterborough) Squadron, Air Training Corps joining in 1992 as a trustee, then taking on the role of committee secretary 1995 and becoming Chair in 1996, a post I still retain. I was elected as Chair for Bedfordshire & Cambridgeshire Wing in 2002 and am responsible for the monitoring, mentoring and the delivery of trustee training for 27 Squadron trustee committees throughout both counties. I was also a Council Member/Trustee & Deputy Chair for Central & Eastern Region RAFAC, before becoming Chairman of Central & Eastern Region in 2021. In 2020 I was the inaugural winner of the Ian Todd Trophy which is awarded to the top civilian committee member in the whole of RAFAC. Even after more than 30 years I still get a thrill from watching youngsters flourishing, gaining life skills and growing into good citizens before going on to enjoy varied career paths. In recognition of my volunteering with Air Cadets and the wider community I was made one of the Royal Voluntary Service Platinum Champions in 2022.
Away from volunteering I enjoy travel and have visited more than 40 countries.  I enjoyed playing rugby for many years and have managed RAF rugby teams including those touring Canada, the USA and New Zealand.  In 2004 I was recognised by the Rugby Football Union as a 'Valued Volunteer' in a presentation at Twickenham and am a Vice President of the RAF Rugby Union.
Along with my wife Brenda we enjoy time with Ralph, our rescue Staffie. We have a married son who is an Army helicopter pilot, a daughter who is a pharmacy technician and also Adjutant at 863 (Thurston) Sqn plus 3 Grandchildren and a Great Granddaughter.
---
Regional Treasurer and Trustee
Mr Paul Thomson-Clark Assoc CIPD AMBCS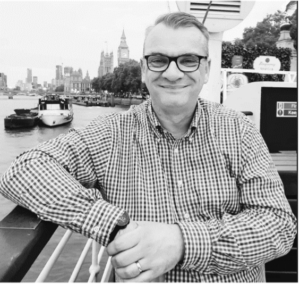 I joined the RAF Air Cadets as a cadet at the age of 12 at my local squadron in my hometown in Scotland in August 1984.
During my 10 years as a cadet, I threw myself into everything that the Air Cadets had to offer. I achieved the rank of CWO, represented my Sqn, Wing and Region in sport, completed the Bronze, Silver and Gold DoE Awards and took part in camps all over the UK, Germany, Gibraltar and at the national AT centres in Wales and the Lake District. However, flying was my passion having amassed over 200hrs in a wide range of RAF, RN and USAF aircraft as well completing the Basic Gliding, Air Cadet Navigation and RAF Flying Scholarship courses, topping up the latter to gain a Private Pilots Licence.
When I "aged out" in 1994 I commissioned straight into the RAFVR(T) and was posted to 2295 (Gilmerton) Sqn in the south of Edinburgh. In 1996 I moved to London where I joined Middlesex Wing and spent 9 very enjoyable years commanding 268 (Tottenham), 1571 (Aylward School) and 1159 (Edmonton) Sqns. On promotion to Squadron Leader, I was appointed Sector Commander and Wing Training Officer. During his time in Middlesex Wing he completed the Nijmegen Marches twice and was Camp Commandant during annual camp at many stations in the UK and Rheindahlen, Germany.
A house move took me to St Neots and in 2006 I transferred to Bedfordshire & Cambridgeshire Wing where I commanded 2 sectors, was the PMC and as Special Projects Officer organised and delivered the Wing Field Training Weekend.
In 2015 I took up a newly created role at HQ Air Cadets as the RAFAC Road Marching Officer. This was a policy and planning role and, with the support of other road marching SMEs, I created the first ever policy covering how RAFAC personnel should conduct this type of activity now known as Air Cadet Road Marching Training Instructions (ACRoMaTIs). I also led the standardisation of team leader training and brought that "in-house" to create a RAFAC focussed Road Marching Team Leader (RMTL) course.
I returned to Middlesex Wg in the post of Wing Training Officer for a second time in Dec 2020. And then brought my uniformed service to a close in Feb 2022. Outside of the RAFAC, I work in the financial services technology industry. I'm married to Clare who is a MoD Civil Servant and we have two daughters Georgie and Phoebe. In other volunteering roles I am the Chair of our local swimming club, St Neots Swans, and support Parkrun and Junior Parkrun.
---
Regional Chaplain
Canon Ron Tuck
Hello, I'm Ron Tuck. I was born in Hackney in1947 and left school in 1964 to become a telecommunications apprentice with the GPO. After nearly 14 years with the GPO I was ordained and left to become a full time Church of England curate in north London. In 1981 we moved to three small rural parishes in Norfolk. This was followed seven years later with a move to Bradwell, just outside Great Yarmouth.
It was at Bradwell that I first became involved with the ATC, where I was invited to become chaplain to 221 Great Yarmouth squadron, a squadron that had been without a chaplain for five years. That was in 1994 and I have enjoyed, and still enjoy, my involvement with the squadron. In 2003 I was appointed Wing Chaplain for Norfolk & Suffolk Wing. Knowing that I was going to retire from parochial ministry in June 2012 I agreed to being appointed Regional Chaplain for Central & East Region in May 2011.
Since retiring we have now moved over the border to Suffolk and live in the market town of Beccles.
I am married to Fran. We have been married for 47 years, have four children, 9 grandchildren and one great granddaughter.
---
Regional Aviation Officer (RAvnO)
Squadron Leader Nicholas Gensler RAFVR(T) RAFAC
Sqn Ldr Gensler joined 644 Volunteer Gliding Squadron (VGS) at RAF Syerston in 2009 as a Civilian Gliding Instructor. He remained with air cadet gliding until 2017 also serving with 642 VGS at RAF Linton on Ouse, qualifying on both Grob Vigilant and Viking aircraft and reaching B1 instructor level. In 2017 he left the VGS to become a staff pilot with 7 Air Experience Flight at RAF Cranwell delivering the Air Experience Flight syllabus on the Grob Tutor T1 aircraft.
In parallel to his gliding and flying roles within the ACO he has been involved at local squadron level as an officer with 1803 (Hucknall) Squadron since 2012, taking over as Officer Commanding in 2014. In 2016 he joined the Trent Wing staff and was promoted to Squadron Leader, where he looked after seven Squadrons as Wing Sector Commander. He has also been involved with the National Aerospace, now Air and Space, camp at RAF Syerston making sure we put the "Air" in Air Cadets. He has also helped develop and deliver the Regional Aerospace courses for Central & East Region.
Outside of the RAFAC Nick is a keen civilian pilot, having first acquired a pilot's licence over 35 years ago. He enjoys maintaining and flying vintage and classic aircraft. In his scarce spare time away from the world of aeroplanes he enjoys hill walking and also getting out in his garden.
---
Regional Training Officer (RTO)
Squadron Leader Lawrence Buckingham RAFAC
Squadron Leader Buckingham began his cadet career at 1474 (Wickford) Squadron at the age of 13, following his passion for aviation. His time as a cadet only served to build on this passion, leading him to study Aeronautical Engineering at Imperial College London.
During his studies, he spent time as a Civilian Instructor at squadrons in London and Bristol & Gloucestershire Wings, before returning to Essex Wing and commissioning into the RAF VR(T) in 2012.
Squadron Leader Buckingham served on squadrons in Essex, South & East Midlands, and Central & East Yorkshire Wings, including Officer Commanding of 2195 (Long Eaton) Squadron.
He then took on the Wing Training Officer role in South & East Midlands Wing, which he held for 5 years including throughout the pandemic. In this role he shaped the Wing's integration of the Progressive Training Syllabus whilst delivering training to over 400 cadets each year and the Wing's annual competitions at Wing Field Day.
He joined the Region from being a Wing Staff Officer in South & East Midlands Wing, looking after squadrons across Derbyshire and Nottinghamshire, as well as the Wing Road Marching Officer.
Outside of the RAFAC, he enjoys walking, clay pigeon shooting, and continuing his passion for aviation. He currently works for Rolls-Royce on the repair and overhaul of large jet engines.
---
Regional Performance & Risk Management Officer
Squadron Leader Paul Davison RAFAC
Squadron Leader Davison started his RAFAC career as a cadet in 1984 with 241 (Wanstead & Woodford) Squadron until 1993.
In 2012 he returned as a Civilian Instructor with 1163 (Colne Valley) Squadron. In 2013 he became the Training Officer at the squadron before becoming its Commanding Officer in 2018. A role he has held until he became a Regional Staff Officer in 2023.
Outside of RAFAC, he is the CEO and Founder of PPWD (People, Practice, Wonder, Develop), a human performance and safety culture development organisation. Seeing people as problem solvers, as opposed to being problems to be solved; has served his well within the rail, offshore wind capture and military sectors. He is married and enjoy long walks with Bonnie, a rescue dog. "She is the only dog that I have owned, I say own, but as a Saluki; she is very independent in thought and action. I thoroughly enjoy sport, and marvel at those who perform at an elite level. My weakness is sports cars and dark chocolate."
---
Regional Adventure Training Technical Officer (RATTO)
Squadron Leader Trace King RAFAC
Trace joined the ATC in 1976 as a cadet at 106 (Orsett Hundred) Squadron, he became a staff cadet, a cadet warrant officer, and he achieved a Gold Duke of Edinburgh Award and an RAF marksman. Trace represented Central and East Region over several years in Swimming and Diving and following his solo glider flight completed 2 years as a flight staff cadet at 614 VGS, during this time he joined the team representing HQAC in the northern national gliding competition.
At the end of his cadet career Trace transferred to 2531 (Woodham Ferrers) Squadron as a CI, after a short period became a Warrant Officer, the Squadron Commander and was then commissioned. He went on to command 4 other Squadrons over a twenty year period, representing the Wing and Region in the Lees Trophy competition several times, during this time Trace held supernumerary Wing staff assistant roles in Duke of Edinburgh Award and Adventure Training as well as being OC Wing Escort and Ceremonial Squadron for over 10 years, he was also a Range Conducting officer and shooting coach.
Trace left Squadron life in 2007 for a Region Staff Officers post in LASER, he held both Region Training Officer and Deputy Region Adventure Training officer posts together over a 6 year period. On transferring back to Central and East in 2014, he filled the Region Deputy Adventure Training Officer post until stepping up into the current post of RATTO. He has an ML, SPA, several paddle sport coaching qualifications, and is a coach educator and course provider for British Canoeing, Trace is also a Mountain Training Lowland Leader Award course director and NNAS Tutor trainer. He has dabbled in mountain biking but as yet has not completed a formal qualifications in it.
Following the completion of an electrical apprenticeship Trace has many years' experience in the electricity supply industry in a number of management and supervision roles and currently heads one of the operations teams at a local power station. Married to Laura with 2 children, Emma and James whom both have strong ATC links, James currently in post as a Squadron Commander.
---
Regional Media & Communication Officer (RMCO)
Squadron Leader James Miles BEng FCILT MCIPR RAFAC
(He/Him)
Squadron Leader James Miles joined us from Warwickshire & Birmingham Wing, where he was previously Adjutant at 2028 (Southam) Squadron. Prior to that he was Media officer for the Wing Road Marching Team and Adjutant at 29F (Rugby) Squadron.
James started his cadet career in 1985 with 301 (Bury St Edmunds) Squadron in Norfolk & Suffolk Wing. Whilst there he rose to the rank of Cadet Warrant Officer and had a number of accomplishments including creating a Continuity Drill team that performed at many local events.
Outside of the RAFAC, James is a Supply Chain Consultant working with many well know Retailers to help solve their Logistics issues. He is married to Natalya (who is also involved in the Air Cadets, as Chairperson of 29F (Rugby) Squadron) and has two grown children.
James has a wealth of experience in Media & Communication, both with the Air Training Corps and also in his business role, and is a very welcome addition to the Regional Staff.
---
Officer Commanding No6 (Central & East) Small Arms Training Team
Squadron Leader Andrew Garrett BEng(Hons) MSc RAFAC
I joined the Air Training Corps, initially as a Civilian Instructor with 356 (Felixstowe) Squadron in November 2007 and took on the role of Squadron ATTO. I was commissioned in November 2009 and took on additional responsibilities as Squadron Shooting Officer. In January 2013 I became Commanding Officer of 356 (Felixstowe) Squadron.
I moved up to Norfolk and Suffolk Wing, as Wing Shooting Officer in September 2016.
In January 2018 I joined the Central & East Small Arms Training Team, initially as Deputy Officer Commanding before becoming Officer Commanding in November 2019
I am married to Carolyn, who is also a member of the RAF Air Cadets. Currently a Sqn Officer based at 356 (Felixstowe) Sqn. We have one daughter, Kayleigh, who is also in the Cadets.
Outside of the RAF Air Cadets, I am employed by BT (British Telecom), working in Customer Premises Equipment. If that wasn't enough, I am also one of 14 Industrial Firefighters within BT, stationed at Adastral Park, Ipswich. Trained to the same standard as those in Suffolk Fire Service.
---
Regional Shooting Officer
Squadron Leader Jonathan Pollard RAFAC
I joined the Air Training Corps as a Civilian Instructor in 1982 at 1300 (Sutton-in-Ashfield) Sqn
I was Warranted in 1983 then commissioned into the RAFVR(T) in 1986. In 1988 I took command of 1208 (Warsop) Sqn. After a short period of time out, I returned to 1401 (Alfreton & Ripley) Sqn as a Sqn Officer. In 2000 I transferred to 620 (Duffield) Sqn as OC and was made Sector Shooting Officer.
I was promoted to Wing Shooting Officer in 2009. In 2016 I moved to HQRAFAC to become a member of the Training Development Team. In August 2019 I was Commandant of the GB U18 (Athelings) Rifle Team Tour of Canada.I was appointed Regional Shooting Officer on 01 Apr 2020.
Outside of Cadets, I am a keen target rifle & shotgun shooter and amateur gamekeeper. I work my Spaniel and 1 day she will have me well trained.
---
Region Sports Officer
Squadron Leader Michelle Worsnop RGN RAFAC
I was born in Harrogate, North Yorkshire and have younger twin brothers. If we wanted to see our Dad then it was off to a cricket match on a Saturday and Sunday. There I did the teas, drinks and scored and this is where my love of sport began. Dad also taught us to swim and play golf. Mum and I would play tennis together. We all still love watching many sports together as a family. Nursing was always a passion and I came to Nottingham in 1983 to undertake my training. It was far enough from home to be independent but near enough to go home when I needed to. The 2nd ward I worked on as a student nurse specialised in Breast Cancer and Bowel Cancer. That was the only ward I wanted to work when I qualified and back then it was much easier to get a job. I spent 7 years on the ward and then moved to the private sector. I set up the Colorectal and Stoma Care Nursing Service and am now as well the Clinical Nurse Specialist for Breast Cancer and Gynae Cancer. This is a very rewarding and challenging role but I wouldn't
swap it.
I joined the Air Cadets (as it was then) by accident in 1988. I bought a raffle ticket for a supermarket dash that a civilian committee were selling to raise funds. I gave them my telephone number which included an extension number as I was currently living in the nursing home. Their reply was "we need a female member of staff and someone to teach first aid". There began my RAFAC career with 2418 (Sherwood) Sqn. I was commissioned in 1989 Aand have served at 138 (1st Nottingham) Sqn, 303 (Worksop) Sqn and 384 (Mansfield) Sqn.
My first Wg Cdr sent out a questionnaire to ascertain what we
would like to do within our RAFAC career. My answer was to be the Wing Sports Officer only. I became the Deputy Wing Sports Officer first and enjoyed coaching the Wing Hockey Team. I became the Trent Wing Sports Officer in 2004 and the Central and East Region Sports Officer in 2019 as
well. My favourite event of the season is the Athletics Championships.
I am very passionate and committed to these roles and ensuring that my teams compete to win. There is nothing more I like to see than a cadet growing and developing through sport and seeing their faces as they win, get presented with medals and progressing from Sqn to Wing to Region and to then representing the Corps at sport.
---
Region DofE Officer
Squadron Leader Colin Armstrong RAFAC
Squadron Leader Armstrong commissioned in 2010 after a cadet career at 2532 (Milton Keynes) Sqn between 1999 and 2004. In 2004 he left to attend the University of Portsmouth and joined Southampton University Officer Training Corps.
Returning to the Milton Keynes area saw him appointed as a CI in 2007 and he gained outdoor qualifications and the Certificate in DofE leadership. In 2010 a move to 2366 Sqn saw him work through different roles on the Sqn and 2 spells as OiC.
A move to wing staff happened in 2016 with his appointment to the Wing DofE Officer role in Herts and Bucks Wing. In 2017 Herts and Bucks Wing won the Sir Roger Austin Sword for the most improved wing in relation to DofE performance. In 2018 he was appointed to the post of Region DofE Officer.
In his spare time he enjoys being outdoors, swimming and spending time with his young family.
---
Region First Aid Training Officer
Squadron Leader Carol Haynes DTLLS MIfL RAFAC
Sqn Ldr Haynes joined the RAFAC as a cadet in Jan 1989 aged 13, rising to the rank of Cadet Warrant Office by August 1995.
She was Commissioned in March 1997 and served as supporting office to the OC of 5F (Northampton) DF between April 1997 and November 1998
After a time at 1101 (Kettering) Squadron as Training Officer, she returned to 5F Sqn as Training Officer from November 2000 and became Commanding Officer in November 2003. A role she continues to hold today.
In addition to her CO role, Sqn Ldr Haynes became Region First Aid Training Officer in February 2013
Outside of the RAFAC Sqn Ldr Carol Haynes is a Director of C&D Training Limited. C&D Training Limited is an independent training provider, delivering various learning programmes to companies and independent learners. Topics include teaching and assessing qualifications, first aid and health and safety related topics. C&D Training Limited also provide event first aid medical cover.
---
Regional Radio Communications Officer (RRCO)
Flight Lieutenant David Webb RAFAC
(He/Him)
David has been a member of the ATC since 1978 when he joined No 2500 (St Neots) Squadron as a CI, he only came along for a couple of nights to see if he could assist in getting the Squadron's Hovercraft Project working needless to say, he has remained with the ATC since. He was commissioned in August 1988 remaining with the St Neots Squadron as the Officer Commanding until December 2012 when he took up the role as the Wing Radio Communications Officer for Bedfordshire and Cambridgeshire Wing.
He enjoys passing on his radio communications knowledge and experience onto the cadets during various training courses with a hope that it will give them inspiration to take up the lifelong hobby of radio and further their chances of future employment in an electrical or engineering subject. Each year he plans and organises thirteen National Radio Exercise for all three Cadet Services to participate in.
David holds two other posts, the Corps Aircraft Recognition Project Officer which he has done for many years now this involves Syllabus changes, Policy, Training and Competition instructions and running Corps National Competitions in Aircraft Recognition, he also runs the Aircraft Recognition Competitions for the Region.
In his spare time David is a Full UK Licenced Radio Amateur so enjoys operating and organisation of Special Radio Event Stations in conjunction with a local radio club, attending his garden and spending time with his wife away on the South Coast.
---
Region Music Officer
Squadron Leader Alan Glover RAFAC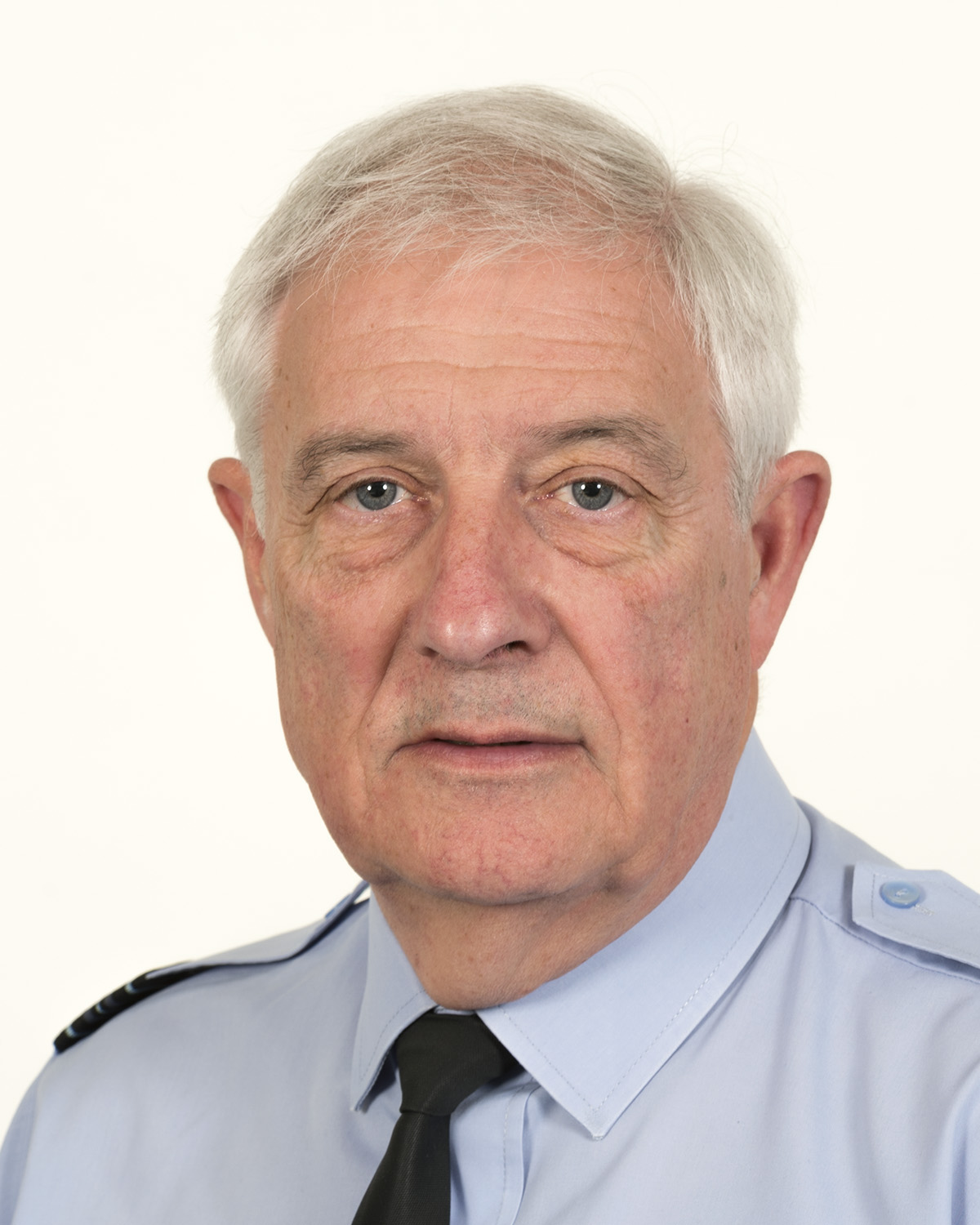 In September 1962 following two years as a cadet with 1862 City of Carlisle Sqn, Alan joined the RAF as a Boy Entrant with No 50 Entry at RAF St Athan training to be an engine mechanic. For the next 14 years he completed various posting around the UK and abroad and represented the RAF as a gymnast and in canoeing. He also represented RAF Germany and Maintenance Command as an athlete.
Alan joined 2409 Sqn in September 1993 as a civilian instructor and was commissioned the following year. He was appointed OC 1563 Buckingham Sqn in 1997.
In 2003 he became more involved with music working both at Wing and National levels and also playing trumpet with RAF Halton Area Band. In 2009 he was appointed Director of Music of the Air Cadet National Concert Band, completing a number of high profile engagements and also recording a CD in the studios of the RAF Central Band.
---
Region Road Marching Officer
Squadron Leader Sheila Wilson RAFAC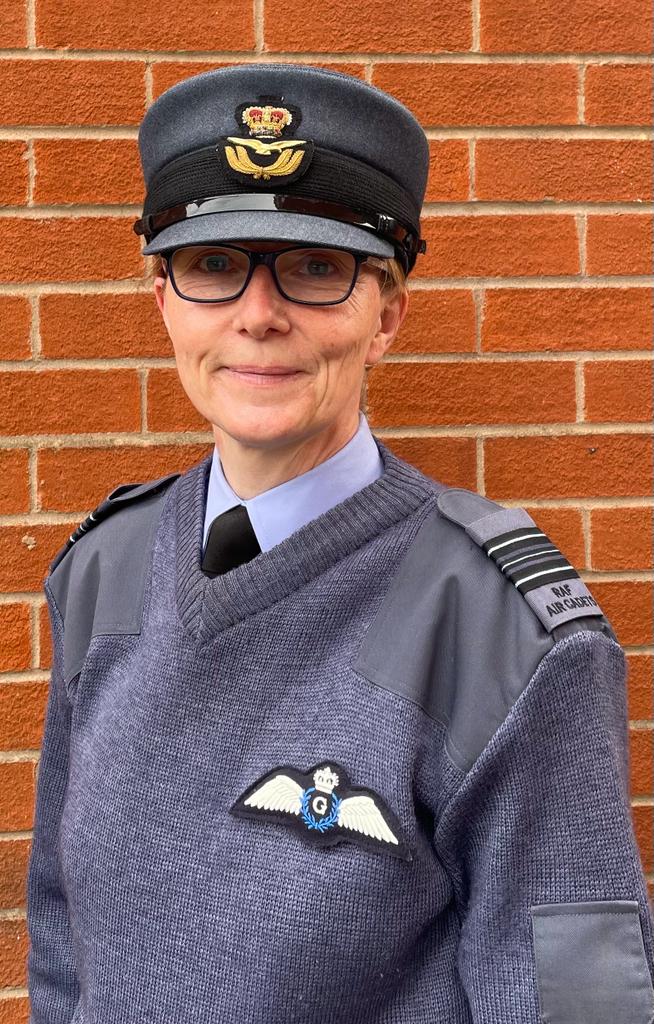 Squadron Leader Sheila Wilson joined the Royal Air Force Air Cadets (RAFAC) as a cadet in May 1989 with 2275 (Walton) Squadron, rising to the rank of Sergeant. Some of her favourite cadet memories are being the first female cadet in Merseyside Wing to be awarded an Air Cadet Pilot Scholarship and having the opportunity to complete her Advanced Gliding Scholarship at Portmoak in Scotland. Following this she joined 631 VGS based at RAF Sealand as a Flight Staff Cadet.
In June 1993, Sqn Ldr Wilson made the move to become an Adult Volunteer, initially as a Civilian Gliding Instructor at 631 VGS as a B2 Instructor. In September 1996 she moved to Birmingham to attend University and joined 495 (Sutton Coldfield) Squadron as a Supernumerary Instructor. A year later she took her commission and became the Adjutant. Following University, she remained in the Birmingham area and transferred her Supernumerary Appointment to 633 VGS at RAF Cosford. As the family grew, she transferred to 1200 (Polesworth) Squadron to be closer to home as the Adjutant. In 2006 she made the decision to concentrate on her young family and business and stepped away from the organisation.
Once her eldest son joined the Air Cadets in 2013, she was persuaded to rejoin initially as a Civilian Instructor at 1122 (Marmion) Squadron before transferring to 495 (Sutton Coldfield) Squadron as the Training Officer. She took a commission again in 2018 and moved to 121 (Nuneaton) Squadron as the Training Officer. Following the pause in Gliding she re-joined 644 VGS at RAF Syerston in 2018 as a Supernumerary Instructor.
In June 2021 she returned to 495 (Sutton Coldfield) Squadron this time as the Officer Commanding. She has over the years also taken on other additional roles within Warwickshire & Birmingham Wing. She has been the Wing Road Marching Officer since February 2020 and the Wing Aviation Officer in December 2022.
Sqn Ldr Wilson lives in Tamworth with her husband and has four children aged 23, 21,19 & 18. She has worked as an Accountant for 24 years. In her scarce time off from RAFAC activities she enjoys walking, spending time with friends and visiting the children who have left home.
---
Region Fieldcraft Officer
Flight Lieutenant Scott Haynes RAFAC
Scott joined the Air Training Corps at the age of 15. Scott became a cadet at 493 (Kings Heath & Moseley) Squadron, he aged out as a Cadet Warrant Officer. Scott then became an Adult Sergeant at 493 but after the first year was up, Scott decided to take a step away from the corps due to work commitments.
Scott re-joined the corps back in 2016 as a CI back at 493 Sqn and jumped into the Training Officer role on the Squadron. After coming back Scott soon realised, he wanted to get back into uniform, so he decided to work towards getting his commission. Since being back in uniform Scott has taken as many opportunities as the corps has to offer. He re-joined the Junior Leaders course as one of the section Instructors and became a member of the Warwickshire and Birmingham Wing Shooting and Fieldcraft Team. Also in 2019 Scott was awarded the Ganderton Sword for his achievements at IOC.
In February 2020 Scott became the OC of 479 (Rubery) Squadron and at the start of Junior Leaders course 21 became one of the flight commanders.
Scott currently runs his own tree surgery company in Birmingham but also likes getting outdoors and enjoying surfing, wakeboarding, walking, skiing, running and anything else that puts him out of his comfort zone.
---
Region Projects Officer (Aviation)
Flight Lieutenant Kyle Aldridge RAFAC
Flt Lt Aldridge joined the Air Training Corps in 2006 at 492 (Solihull) Squadron. After a successful career as a cadet on the squadron; gaining his Gold DofE award in addition to achieving both a Flying and Gliding Scholarship, he went on to join 633 VGS as a Flight Staff Cadet to continue sharing his passion for aviation with others.
In 2014, after successfully earning his commission, the then Pilot Officer Aldridge moved to 2030 (Birmingham Airport) Squadron, taking on the role of Training Officer, before assuming command of 485 (Harborne & Quinton) Squadron as a Flight Lieutenant – a role he still holds currently.
In addition to his return to gliding at 644 VGS in 2017, Flt Lt Aldridge joined the Region Aerospace team as directing staff acting as course adjutant/course director delivering aerospace training to cadets and assisting with the selection of participants for the Air Cadet Pilot Scheme. Also, at the start of 2020 he joined the RAFAC Immersive Tech Team assisting with the development and roll out of immersive technology across the RAFAC.
Flt Lt Aldridge is also the Aerospace Officer for Warwickshire & Birmingham Wing and the Contingent Commander for St Paul's School for Girls CCF.
---
Region ASPIRE (D&I) Adviser & Region Bader Officer
Mr Adam Olivant
(he/him)
Adam is a Civilian Instructor with 1451 (Haverhill) Squadron having previously been a cadet with 2523 (Linton) Squadron. During his time as a cadet Adam was active in community events the Squadron attended such as IWM Duxford Air Shows, and Bartlow Charity Walks. He also attended a number of blues camps including RAF Linton on Ouze and Odium.
As a staff member at 1451 Squadron, he has been on a number of the Wing's Easter Camps as Camp Photographer and support. He is also a part of the Team who commands the Eastern Sector Field Day which is a unique event for those who might not be able to go to the wing Field Days. He is the Squadron Adjutant supporting a large number of areas including Health, Safety and Environmental Protection.
Outside of Cadets, Adam is PFI Contracts Manager for Cambridge University Hospitals NHS Foundation Trust, and also a Trustee of a local LGBT+ Charity in Cambridgeshire and surrounding areas called The Pink Festival Group. The Pink Festival Group runs Cambridge Pride. He is also a Stonewall Young Leaders Programme alumni and was awarded the Young Person of the Year for Cambridgeshire in 2014. In his personal time, he enjoys going on walks and is known to attend the odd West End musical in London!
---
Region STEM Officer
Flying Officer Howard Jones BEng (Hons) MSc PGCE CEng MIMechE RAFAC
Flying Officer Jones joined the Air Training Corps in 2016 as a Civilian Instructor at 29F (Rugby) Squadron, and was commissioned in 2018. He was in the Army Cadets when he was younger, followed by the University Officer Training Corps and Territorial Army.
Since he joined 29F, the Squadron have built their own flight simulator, are half-way through building a two-seater Skyranger aircraft, and have twice been Grand Finalists in the RAF Engineering Competition. He became Warwickshire & Birmingham Wing's STEM Officer in 2019.
In addition to his 29F Squadron duties, Flying Officer Jones is a supernumerary officer with 633 Sqn (Astra Ground School). He is also an instructor on the National Air & Space Camp.
After completing a 30-year career in industry, mainly at Rolls-Royce PLC, Howard studied for a Post Graduate Certificate in Education. He now helps at local schools as an A Level Physics teacher and enjoys any opportunity to get young people engaged in STEM topics and careers.
When not supporting RAF Air Cadet activities, Flying Officer Jones is very slowly renovating his 1963 Daimler Ferret armoured car – a fascinating piece of British 1950s engineering. He also holds a Private Pilot's Licence for microlight aircraft, and took part in the annual Round-Britain-Rally on several occasions – although he now prefers to keep his feet firmly on the floor, flying flight simulators instead!
---
Region Warrant Officer
Warrant Officer Michael Webb RAFAC
(He/Him)
Warrant Officer Michael Webb RAFAC was brought up in Germany and East London . He joined the Air Training Corps in March 1988 (282 East Ham Sqn) and rose through the ranks to CWO in 1992. In 1994 he aged out and became Adult Warrant Officer.
After serving on 4 Squadrons, he took Command of 2408 Campion Squadron where he served as OC for 3 years.
He then went on to be the Squadron Warrant Officer on a further 3 Squadrons. During this time he was a Sector Warrant Officer and the London Wing Drill & Ceremonial Warrant Officer.
In October 2013 he transferred to Central and East Region. He joined Bedfordshire & Cambridgeshire Wing as the Squadron Warrant Officer on 2461 Squadron and in March 2014 took on the role of Eastern Sector Warrant Officer. In July 2014 he was appointed the Wing Warrant Officer for Bedfordshire & Cambridgeshire Wing.
During his time in the Corps Michael has obtained a Meritorious Service award from Commandant Air Cadets and one from Regional Commandant LaSER. He was also a part of the Bedfordshire & Cambridgeshire Easter Camp Team who received AOC 22 Group's Commendation in the 2018 New Year's Honours List. Michael has also attended 15 camps in Germany, 3 in Cyprus and 2 in Gibraltar as the Camp Warrant Officer.
In his civilian career he works for Transport for London as part of the Incident Response Team, covering North East London, Hertfordshire and Essex.
He is married to Vicki, who owns a dog grooming business. They live in Hertfordshire and have 2 children Daniel and Amy and a Cavalier King Charles Spaniel called Molly.
He enjoys family holidays, meals out and watching live comedy.